I honestly do not think I can contain my excitement for this film much longer, two years is definitely too long to wait! As more trailers, TV spots and audio clips are released from Beauty and the Beast, the more people I see criticising it. However, from the moment I heard that Emma Watson would be portraying Belle I was unbelievably excited. To bring some positivity to the live action film, I thought I'd talk about what I am excited to see and why I'm looking forward to it! The good thing about Disney doing live action remakes is that the original will still always be there. It's not going anywhere, you can still enjoy it even if you don't like the remake.
Seeing the sets come to life
♥
One of my favourite things about animated Disney films is the extent they go to to making the landscapes, buildings and sets look as realistic and beautiful as possible. Even though the original film was released in 1991, and Disney have certainly upped their animation game since, the imagery throughout the whole film is still visually stunning. The first teaser trailer they released for the live action Beauty and the Beast gave us a glimpse at the sets and they look incredibly beautiful. Seeing them being brought to life and watching the trailer side by side to its animated counter part, made it obvious Disney that has ensured the live action sets do the animated ones justice.
Hearing and seeing the songs come to life in a whole new way
♥
The original songs are extremely iconic and living up to them is a difficult task. There will be new songs in the film and I am so excited to hear them and see how they are going to fit into the storyline. Dissimilar to the original film the live action one the actors won't have American accents and from the clips we have heard from Emma singing, she stills sounds exceptionally British. From what I have heard, I like her voice. I have seen a lot of people slate Emma Watson's voice from the short clips that have been released. It is easy to compare her to Paige O'Hara but we have to remember that they are two completely different people, obviously Emma's voice is going to sound different when singing these songs. Belle is one of my favourite Disney songs and I really hope they keep it similar to how it is performed in the original, as it is such an iconic song and scene.
Seeing Emma Watson portray Belle
♥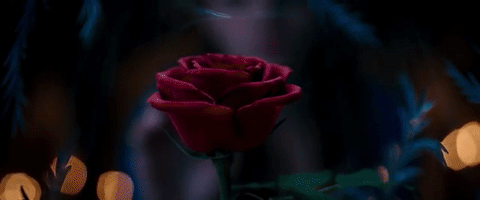 I know people are disappointed with Disney casting Emma as Belle and personally, I do not understand why. For 10 years we did watch her play the role of Hermione and it is difficult to see her in a different role without hearing or seeing this character but Belle is such an iconic role in a new franchise. Therefore, I think that watching her portray a new character in a whole different light will hopefully allow audiences to watch her in new roles without comparing her to past roles. Emma Watson is one of my favourite actresses and Belle is my second favourite princess, so I am extremely happy she was cast.
I love the anticipation the release of a new Disney movie brings
♥
We really are incredibly lucky that Disney are constantly churning out new films, I enjoy the lead up to the films with the release of the trailers and clips. I've been waiting over 2 years for the release of this film now, so granted that is an long time to wait but I have still loved the anticipation and the build up for it. The backlash, not so much. I think one of the reasons I am so excited for this film is the fact I've been waiting over 2 years for its release, the anticipation is slowly eating me alive and I secretly love it...
I really am so excited for this film and I will continue supporting it for as long as people talk about it. Are you looking forward to the remake?
Instagram & Twitter: acciovictoria