One of my favourite things about Christmas is all of the films I get to watch and they honestly make me so happy. The Disney Channel original Christmas movies were always on my list to watch every year but I'm sure they stopped showing them a couple of years ago. I'll have to try and find them online! These are just a few of my all time favourite Christmas movies and I haven't added Elf to the list due to the fact that everyone is already as obsessed with that film as I am, how couldn't you be?

I absolutely adore this film, not only do I love Tim Allen but he makes the most perfect Santa Clause. Everything from the costumes, to the sets, to the props are so incredibly magical. The North Pole in this film is always how I'd imagined it to look. I love the concept of not being able to see something doesn't mean you shouldn't believe in it and that is touched upon throughout this film. As Jack Skellington once said, "just because I cannot see it, doesn't mean I can't believe it!" I also have to watch the sequels every year, they are definitely not as good as the original but they are just as magical. I'll always remember going to see The Santa Clause 3: The Escape Clause at the cinema when it first came out and being amazed at how much Charlie had grown, even though it had been 12 years since the original films release...
Beauty and the Beast: The Enchanted Christmas
♥
Every year I watch this film and come to the realisation that it definitely isn't as good as I remember it being. That being said, I still absolutely love it. Disney and Christmas combined into one film, what more could you want? I admit that the story line certainly is not the best but despite this it is still a Christmas film I have to watch every year. I love that is shows more of Belle's time in the castle with Beast and their time together, even though it is not canon. Me and my mom watch this together every year and it is a tradition I hope will continue.
The Polar Express
♥
Where do I begin with this film? This is one of my all time favourite Christmas movies. For a few years my family and some close friends would go to the cinema and watch it in 3D, I used to look forward to it every year. The animation never seizes to amaze me when I watch it and the many characters Tom Hanks plays, I may or may not have a crush on him... The whole film is just incredibly magical and it always makes me tear up when the boy can't hear the bells because he doesn't believe in Santa. For me this film truly represents the magic of Christmas and it definitely takes me back to my childhood whenever I watch it.
A Muppets Christmas Carol
♥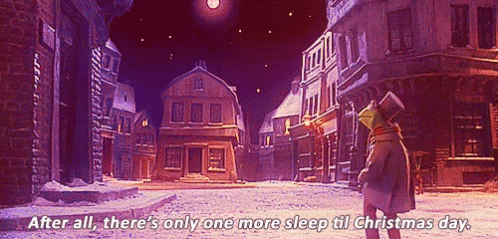 As over done and as over told A Christmas Carol is, this version will always be my favourite. I don't watch this film every year but it is still one of my favourites. Every Christmas at primary school the whole school would go and sit in the hall to watch a Christmas film and more often than not, it was A Muppets Christmas Carol. Therefore, it always reminds me of Christmas when I was younger and I think it is the perfect film to get children to watch if you want to show them the story of A Christmas Carol. The songs make it so much more enjoyable to watch, in my opinion.
What Christmas films can you not go without watching every year?
Instagram & Twitter: acciovictoria