I've only recently started to get into horror films as they did used to terrify me but now I have someone who will watch them with me I love them. However, I thought I'd talk about my top 4 animated Halloween films. They aren't necessarily Halloween related, they are just films I enjoy watching around this time of the year. I guess this is not only my top 4 favourite films to watch at Halloween but also my top 4 stop motion films. Two are made by Laika and two are Tim Burton films and Laika even had contract work with the Corpse Bride. I love stop motion, it's such a beautiful craft that lends itself to Horror so effectively, with its jankier motions and the inherently creepier quasi-humanoid character models.
The Nightmare Before Christmas
♥
There's always a lot of conjecture as to whether this is a Christmas or a Halloween film, but I have come to the conclusion that it is both. I know I have spoken about this in a couple of my previous blog posts but The Nightmare Before Christmas is the first Disney film I have any recollection of watching - it holds a very special place in my heart. There was a time when I was terrified of the vampires in it but other than that it is one of my all time favourite films. I used to own a lot of clothing and bags with Jack Skellington on and I wish I had kept more of them. From the score to the incredible stop motion, this film is beautiful and if you haven't watched it I highly recommend doing so.
This is probably one of the creepiest animated films I have ever seen, I know for fact that this film would have scared me when I was younger. It is so creepily beautiful and I think the animation is really unique. It was released when I was 14 and instantly fell in love with it, The idea of another universe where everyone has buttons for eyes is slightly terrifying, especially when your other mother wants to stab a needle into your eye. I think what makes it so scary for young children is that the main character is so young, making it more relatable and believable for them.
I'm not too sure where to begin talking about this film, everything about it is so perfect. The juxtaposition between the land of the living and the land of the dead is exquisite. When they are among the living, the colours are a lot more bleaker with a greyer hue, yet once they are among the dead everything is in colour. I know being dead in this film seems a lot more entertaining than being alive and I think the use of palette throughout the film proves that. I love Emily's character and how she stands up to the man who murdered her and got her revenge. I think she is so beautifully animated and I would've loved to have seen what she looked like while she was alive. The score, the stop motion, the story line - another incredible Tim Burton movie.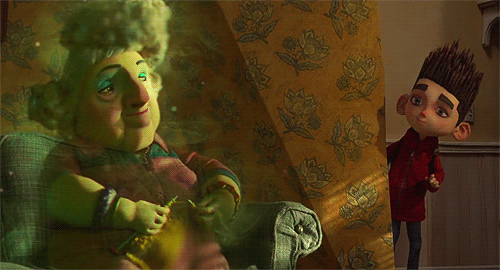 It took me a while to watch this film prior to its release, I don't think it particularly appealed to me to begin with. I decided to buy the bluray and give it watch, and it definitely was not what I was expecting. The opening scene of the film where Norman is speaking to the ghosts on the street is done extremely well and whilst this isn't necessarily a creepy film, my experience of it as an adult might be considerably different to that of a child... I especially wasn't expecting it to end how it did and I was pleasantly surprised. Paranorman is a perfect film to watch around Halloween, as the plot revolves around ghosts, zombies and witches.
What are your favourite films to watch at Halloween?
Instagram & Twitter: acciovictoria